With $116M in funding within less than a year, this startup could be the next Alibaba
APUS Group Founder Li Tao, who may become China's next Jack Ma. Photo Credit: PR
Geektime had the privilege to speak with Li Tao, the founder of Android utility app startup APUS Group. Here, we learn how they got 150 million users and more than $100 million in funding since launching in June
APUS Group is the fastest growing, most under reported startup we have come across in a long time. Since launching in June, this Android utility app company from China has more than $116 million in funding and 150 million users. According to App Annie, its signature app, APUS Launcher, has 120 million users, ranks in the Top 5 on the Google Play Store in 52 countries, and ranks as the No. 1 personalization app in 73 countries. As of April 30, it was also the seventh most popular Android app.
Its rise is a tale of the growth and scalability of utility apps such as Android launchers (also known as Android personalization apps), the importance of user interface, and the cut throat nature of startups in China. Similar to how Alibaba was largely out of the Western world's public consciousness before its IPO (including its 10-year rise), we think APUS is a hidden gem that has fallen under the radar largely due to its location. The fact that the startup's initial growth largely came from capitalizing on emerging markets and that its powerhouse founder, Li Tao, does not speak English, are also reasons this app has not gotten more press – until now.
Talking to Li Tao, the founder of APUS Group, which has one of the fastest rising app launchers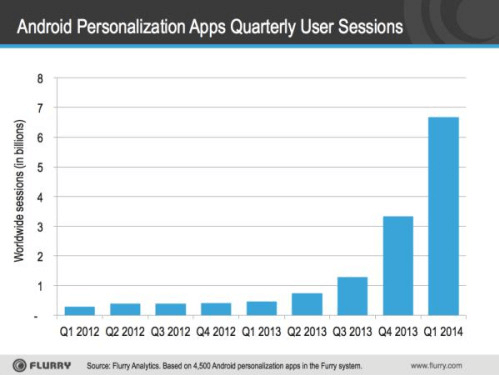 Image Credit: Flurry Insights
So how could APUS compete against industry leaders such as Nova, Apex, and Go Launchers, all of which have hundreds of millions of users and some of whom have either been bought by companies like Yahoo or gone public? Li Tao had three unfair advantages: First, he had vast experience leading security app Qihoo 360's international mobile expansion as its vice president, including growing their leading app, 360 Mobile Guard, to 600 million users. As Li Tao said in a translated email interview with Geektime, "With years of experience in designing and localizing products for both emerging and mature markets, we've managed to understand effectively how to localize apps for users in different markets."
The secret to this growth in both emerging and developed markets Li best explained to Francis Bea in an October CNET piece (Bea is both a journalist and PR professional that worked at Li Tao's former company Qihoo as a senior marketing manager, and has served as APUS's senior brand marketing manager since April): "Unlike mobile games," another sector China is strong in but has had difficulty expanding abroad, "utility applications are easier to localize, Li explains." This is because games and many other apps have cultural limitations that are difficult to scale, whereas utility apps designed for device use are universal. "All that needs to be done to customize an app and meet the needs of launching in a specific country is to be translated into the country's language, be it English, French, Chinese, or Korean," Li added to Bea.
Second, Li understood what the leading launchers were missing: an intuitive, simple, easy-to-use interface like iOS. "The only other company that's developed a user system with the end user in mind is Apple, which everyone knows as iOS. APUS, on the other hand, is a user system for the Android operating system. APUS develops services that revolve around the 'user system' which at the end of the day provides a user experience that's been designed for the end user and not the device," he told Geektime.
Interestingly, APUS targeted markets outside of China first, including the U.S. and BRIC countries. It soon saw that its launcher – which has a small file size, runs quickly, and includes a booster app that makes a phone run faster – exploded in BRIC countries, many of whose users don't have Tier 1 smartphones. They likely adopted the technology because the launcher could make their less expensive phones function much faster, enabling them to operate at a higher level. Within a week, APUS launcher had 1 million users, many of whom the company calls "aspirational users."
So far, their largest challenge has been in hiring staff. "Hiring enough great talent that support our rapid growth has been one of our biggest challenges, and it's been no small task seeing as how our goal is to to double in size in order to support our scale," Li reflected.
Now, it is targeting U.S. and European markets and trying to emphasize how its launcher can enhance a higher end mobile user's experience. To do so, they have added enhanced wallpaper, theme, swiping, newsreader, and app management features to make APUS feel closer to customizable launchers such as Nova Launcher.
His third unfair advantage: His former company invested in one of the earliest leading launchers, Go Launcher
Even though Li Tao told Geektime, "There wasn't any particular 'Aha' moment" that spawned the idea for APUS Group, one can assume it was partly from his understanding of China's early leading Go Launcher. While neither Li Tao nor APUS Group's company spokesman would comment on Li Tao's involvement in his former company Qihoo 360's investment in Go Launcher in 2013, which later went public, he no doubt observed Go Launcher's rise and thought of ways to improve upon its flaws.
When I tried Go Launcher, indeed, there was a lot to be desired.
Screenshot of Go Launcher on this reporter's HTC.
First of all, it did not show my most used apps, such as Gmail or WhatsApp. It was also confusing to find the simplest function, searching the internet, which is shown in the bottom right with a circle and purple widget underneath an options bubble. I would still prefer to use my basic HTC home screen, shown below – it makes a lot more sense.
Screenshot of this reporter's Android home screen.
Go was lucky for getting in the game early, but there are many better launchers out there, including APUS.
Review of APUS Launcher
This is how APUS first appeared on my phone.
Screenshot of APUS Launcher on this reporter's phone
One of the first things it does when you start running the launcher is boost your phone, claiming that it frees up significant amounts of memory usage instantly. If you want to use it again, you can install their booster app, automatically displayed in the bottom right.
Besides Gmail, its smart interface accurately picked up on my more used apps, and its screen display is clean and pleasing. Its phone, camera, internet, and messaging widgets are also easy to see and operate.
Its effects and tools functions also add a nice amount of customization, which one can explore endlessly.
The main thing I did not like about APUS is its key to monetization: the APUS Radar widget dangling from the top. This recommends popular apps being used near you. While recommendation tools work for services like Netflix, I tend to not appreciate them in launchers and mobile apps in general.
Still, the rise of APUS and similar launchers comes from these functions as well as their app markets, which the companies get revenue from linking to other apps. This easy monetization method largely explains the sector's, and APUS's, rapid growth.
Comparing it to Nova Launcher
Considering its main competitor in Tier 1 markets is Nova Launcher, I also tested out Nova on my phone. This is what it looked like:
Screenshot of Nova Launcher on this reporter's phone.
As you might have noticed, it looks a lot like my original home screen. Nova gives you the option in the beginning of starting from your home screen's layout, and then using Nova to customize it further. I can see why many users like Nova's approach: It's pleasant to memorize your home screen, able to swipe the widget you want without looking or thinking. Plus, I believe many current users prefer controlling their screens rather than "smart" experiences from app launchers such as Everything.me or Aviate.
Still, APUS appeals to folks that want something with an iOS-like interface and in between a customized and smart experience, which is a market that will likely grow.
Will the app launcher bubble pop soon?
Though the sector's usage has rapidly grown and it has easy methods for monetization, one looming question is if these launchers will eventually feel more like features rather than stand alone companies. Most of the smartphone manufacturers, including Samsung, have their own app launchers, many of which function well. There are also numerous copycats of APUS and others, including APUS copycat Hola Launcher, which was created by Li Tao's former company Qihoo.
Only time will tell if APUS rode a strategic wave or will truly provide a superior consumer experience. Likely its success will also depend on its other utility apps, including APUS Locker, APUS Notification, APUS Flashlight, and APUS Booster+, which will show whether its "user system" oriented approach will truly disrupt utility apps as we know it.
Download APUS Launcher on Google Play
Direct Download APUS Launcher APK