Only one step from tool to platform: "APUS,"the Entrepreneurial Venture of Tao Li, for...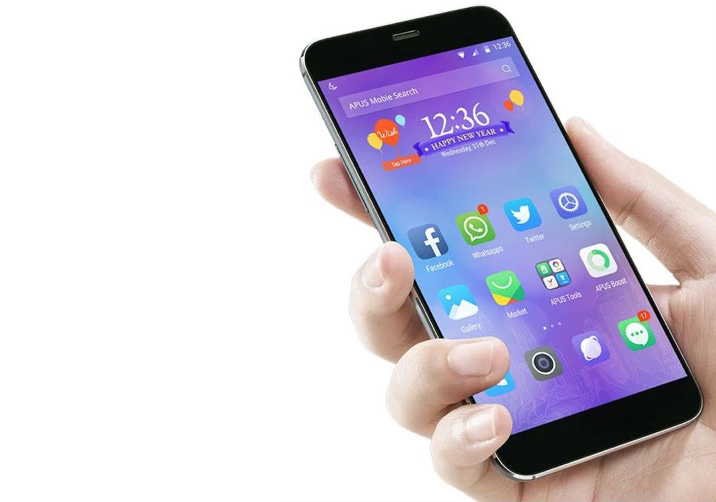 Android users who are interested in Launcher Applications and International APP markets may already know about APUS Launcher. It's been available on Google Play as a Personalization APP for less than three months and it's already been top ranked in over 30 countries and ranked Top 5 in 50 countries around the world.
36Kr was able to make contact with the team behind APUS just as insiders become interested about the app. We visited the APUS team to gather more information about the Launcher product and of course to learn more about the story of its creator—Tao Li, the former vice president of Qihoo 360.
In May, Li left his job to work on his own business and by June he had assembled a team. By the first week of July, the product was available and was able to attract over one million users. This number has increased up to 30 million by September, at which time the product also boasted more than 8 million daily active users. Through five years of ups and downs, Li's act of leaving his job to create APUS also reflects the characteristics for which Qihoo 360 is best known: fast, swift and strong execution.
Li resigned to build a startup, because he "wanted to do something single-mindedly"
Li is known as "the father of channel marketing" for creating 3721 marketing channels and networks. Over the time, he has built a deep relationship with Hongyi Zhou. In 2009, Li was convinced to join Qihoo 360, to build up the wireless business from scratch. In mid-2011, Li was transferred out of the wireless business, but was brought back to lead the business 6 months later. He increased the number of mobile security app users from the tens of millions to 400 million, and then was transferred to lead the growth in overseas markets. In speaking about these events, Li admitted that he had experienced many ups and downs in Qihoo 360, but declined to discuss the events in too much detail. In answering the question of "Why did you leave Qihoo 360 to work on your own business?" he focused on his desire to "do something single-mindedly."
Li explains that he strongly admires pureness and simplicity in both his life and work. "To be honest, many of my thoughts and practices were developed during my career at 360," Li expresses. We can feel the love and gratitude for 360 in Li's words. "However, 360 has reached a stage and scale at which I cannot experience a working environment encouraging the creativity. Actually, this situation exists in many big companies. I am someone who does not enjoy thinking too much. I most appreciate pureness and simplicity. Now that I have my own business, I experience more stress as a leader than as an executive. At the same time, there is less complexity and fewer factors to consider. I am able to simply focus on my own products and company."
In selecting an entrepreneurial direction, he didn't even consider other industries outside of the mobile Internet.
From the time he joined 360 in 2009, up until last year, Li was in charge of its wireless business department. During that period, Li witnessed and took an active part in the explosive growth of the mobile Internet business.
"I am privileged to have witnessed the entire development process of Internet in China," said Li. He expressed his reasons for deciding to start a company in the mobile Internet space: "I entered the industry in 1999, and since then I have experienced the tremendous growth of China's Internet as well as the global development of mobile Internet. These trends have been clear to me. In selecting an entrepreneurial direction, the decision to center my work on the mobile Internet space was never in question."
Overseas markets are a blue ocean. China is the world's most competitive internet market.
APUS may not be well known within China, but as data at the beginning of this article shows, the Launcher has done very well in overseas markets. Why is that so? Li believes that compared to the Chinese Internet market, where so many companies are competing aggressively, overseas markets may host greater opportunities and less competition.
China's Internet market may be the world's most competitive industry: tens of hundreds of companies compete for every possible service opportunity. China's smart phone market contains of 6 to 7 million users, with many companies competing with each other. In contrast, in overseas markets, the number of Android users has reached nearly 3 billion. In populated countries such as Brazil and India, many individuals are still using the very first Android phone that they have ever owned. These phones might contain only 256M or 512M RAM. Therefore, these users are in great need of basic functions such as what the Launcher provides: organizing desktops, cleaning out space, and increasing operating speeds.
In addition, Li has analyzed why these overseas market opportunities have always existed, and yet no established company has successfully taken advantage of them:
"I often tell people that within the upcoming three to five years, global Internet landscape will be divided into three segments: the American Internet, the Chinese Internet, and the Internet of the rest of the world. China's Internet industry is already powerful. In my opinion, Chinese companies will be the only ones able to provide a strong service to those overseas markets that are lower in competitiveness than the Chinese market. Why won't the American companies be able to do so? I believe it's because American culture is too forceful, and values independence and the spirit of superiority. This means that American companies enjoy promoting their own products on the global stage, but do not localize for markets at relatively lower developmental levels. Meanwhile, Chinese companies are good at and willing to innovate and localize at the levels required in these types of markets."
"Many people believe that doing business overseas is simply a matter of translating the language of your application into the local languages. In fact, what is truly required is, for the product's creator to gain an in-depth understanding of the needs of local users, and then to carry out large amounts of localized optimization." As he spoke about the challenges and opportunities of overseas markets, Li mentioned with confidence, "Even if all that required is a simple translation, many teams may not do a good job. For example, English is widely spoken, but with varies in its slang and usages worldwide. Additionally, translation alone is not enough; one still needs to dig deeply into each market's needs and clearly understand user's preferences in relation to the product."
Cultural and psychological adaptation——what Chinese teams must exhibit when doing business overseas
Li's confidence in overseas markets is rooted in his experience during his last year at Qihoo 360, when he was in charge of the company's international business. Li explains that, in order to gain knowledge of market conditions, he personally visited dozens of countries worldwide, including developed countries in Europe and America, as well as markets in Asia, Africa and Latin America. "I was robbed on the streets of Brazil. In India, I bathed in dirty water, catching an eye infection."Li believes that these experiences were integral to his understanding of international business. He asserts that typically, Chinese Internet firms failed overseas due to challenges with "cultural adaptation" and psychological adjustment. "Many senior staff members of major Chinese companies have a difficult time adapting to different cultures. Besides, they are reluctant to invest the time and energy to personally experience a foreign market, instead opting to send more junior staff members with little decision-making power. This directly contributes to poor cultural adaptation at the corporate level. In fact, one will find that it was the relatively smaller companies that could not survive in China, initially succeeded overseas. The decision makers of these smaller companies did a good job in adjusting at all levels when doing business overseas. Thanks to our experience doing business overseas as a part of Qihoo 360, we have learned these principles in advance. Our willingness and ability to adapt to learn from local markets has been one of our greatest advantages in doing business overseas."
"Of course those small companies who have achieved some success overseas also have their disadvantages. Their main focus is money and survival. As a result, they attach great importance to profit, leading to a lack of critical thinking." Li's implication is that he has confidence in the uniqueness and outlook of APUS.
Helping users to organize Android desktops with a simple Launcher application
First, he decided to do business in the mobile Internet industry; then, he chose to do so overseas. Why did he decide to start with a Launcher product?
Li believes that the Launcher is the most important interactive interface between users and their phones, as well as the interface is what the users see the most. The openness of the Android platform allows it to quickly dominate most smart phone markets. On the flip side, these qualities come with flaws, including poor integration and relative chaos in design. In contrast to iOS, Android phones have Launcher as well as menus, increasing the effort required for users to understand and effectively use their phones. Thus, applications that can help users arrange their desktops and increase operational efficiency are attractive to Android users. Of course, high-end phones may include custom-made Android systems that are better optimized for the user experience.
How does APUS differ from other Launcher applications? Li believes that APUS is entirely different and innovative compared to other competitive products in market.
"Apus" means "swift bird", one of the smallest and fastest birds in the world. Accordingly, Li and his team decided to name their product "APUS Launcher" in order to highlight three of its most outstanding qualities: small, fast, and simple.
At just over 1MB, the application is indeed small: similar Launchers available in Android markets are around 5MBs, and the Go Launcher is over 10MBs. When in use, the APUS Launcher also runs faster than other products. The characteristic of "simple" is also reflected in its functions and design. In addition to helping users solve several basic problems in using a Launcher, APUS is designed to be modernized and simple in its functionality, making things as easy as possible for its users. Li believes that other Launcher applications may have misjudged users: "Many Launcher applications designed for international markets are made to be very beautiful, with some showy functions. However, this might not be what users really want. Low-end phones have low specifications. If you make your application too large, occupying too much RAM, that would be wrong. On the other hand, high-end users are not seeking 'beauty';they pay more attention to the simplicity of the product. Launcher applications should help users to use their phones better, not disturb them."
The Launcher is only the surface. The backend of APUS includes a matrix of products and an "application market"
For APUS, "Launcher" is simply one expression in product form. In fact, it includes an entire matrix of products, with functionality focused on solving an entire range of basic phone usage problems, including boosting mobile phone speed, clearing of its junk files and energy optimization. These functions each meet the specific demands of target groups, and are combined into one Launcher to make things easier for users. However, these basic functions do not represent the limits of APUS's imagination.
What APUS really intends is to seamlessly integrate the Launcher and application markets, achieving the mantra "Launcher is the market." How do they plan to achieve this?
First, APUS intelligently creates folders of different categories on the desktop and automatically places the icons of the user's applications into its corresponding folder. The names of the folders are placed in an order at the top margin of the folder interfaces. If users want to move a specific application from one folder into another folder, they can easily slide left or right to switch screens, without returning to the Launcher home screen.
Additionally, the APUS team's strategy of turning the Launcher product into an application market lies in the folders. The bottom of each folder includes a list of applications showing "what people around you are using,"which intelligently recommends other hot apps to the user. When the user clicks on one of these icons, he or she will be redirected to the download page of the selected App.
This function allows this Launcher to serve the function of an"application market"in a more direct and simple way than traditional application markets. In the regular course of using their phones, users can discover information about other applications. Since every folder has been classified intelligently, users will save on time that would have been spent proactively searching for new applications. At the same time, as compared with ordinary market applications, folders are more often used, offering greater opportunity for applications to be recommended to users. This is attractive to application developers. In this way, APUS provides a light Launcher tool with an innovative platform.
However, APUS does have its flaws. For example, as I was using it, several of my applications were automatically sorted into folders in a way that did not seem to make sense. (Note that, when APUS discovers that apps have been left unsorted on the desktop, it asks the user to manually place them in suitable folders.)
In addition, the function of recommending applications from within the sorted folders was not very appealing to me. Perhaps this was because I had already installed enough commonly used applications; the fact is that the applications APUS recommended felt to me to be of a lower quality relative to the ones I was already using. Even though the header reads "people nearby are using,"I learned that the people around me were rarely users of the applications recommended in this section.
I mentioned this to Penny, who is in charge of marketing for APUS. She explained that since APUS is mainly geared towards the users of overseas markets, it has fewer domestic users. Thus, in order to collect enough data to support an intelligent recommendation of applications in China, the word"nearby"may refer to a relatively larger geographical range, for example a district or a town.
Though I felt I had an average experience using APUS while in China, I do recognize that it is an innovative move for APUS to embed application recommendation within desktop folders. If these recommendations can be supported by enough users and data from overseas and thus become more targeted, that would be wonderful.
In addition to creating products, APUS has established funds for former employees of 360, as well as Chinese teams tackling overseas markets.
At first, my impression of APUS was that of a smooth Launcher application. However, after learning more about the product, and experiencing its in-folder recommendation functions, or its"Launcher is the market"functionality, I realized that it also serves as an application platform. Moreover, in addition to this platform, APUS has also established a fund.
The APUS Fund primarily invests in two types of projects: 1. Projects founded by former Qihoo 360 employees, and 2. Ventures targeting overseas markets.
With five years of experience growing the wireless and international departments of Qihoo 360, Li will always respect 360's culture and values. Perhaps it is recognition of the value provided by the company that encouraged Li to establish such a fund supporting the entrepreneurial endeavors of former 360 employees.
"Why do you support new venture teams that have a connection with Qihoo 360? Do these individuals share something special in common?"
"My emotional connection definitely plays a role. Secondly, throughout the time I worked at Qihoo 360, I got know my colleagues well. Even if I do not know someone's name, I may know how well he or she has handled their job once he tells me what he was in charge of. To a large extent, this knowledge informs my investment decisions. In terms of qualities that employees of Qihoo 360 may share, a strong ability to execute would top the list."
APUS's decision to invest in teams doing business with international markets is also in line with its own current business and characteristics. In fact, APUS aims to become a bridge between Chinese developers and international markets. "We are optimistic about overseas markets, and we hope to help teams that are still competing within the China market to look outside. Some of these companies are already aware that they have to work on international markets, but do not know where to start! We are able to provide them with experience and resources, and help them to adjust psychologically as well as to gather the proper information."
Finally, in regards to the financing of APUS, Li revealed that the team has successfully closed a Series A round of over 100 million RMB. However, further details, including names of the VCs involved cannot be disclosed at this time.
What APUS Launcher do for you? Speed up phone, personalize phone home sceen with thousands of HD themes and wallpapers, manage apps, discover and improve lifestyle, etc.
Download APUS Launcher on Google Play
Direct Download APUS Launcher APK